Sketchbook – blog
Blog-hop – Celebrating black history month
I first heard the name Doris Duke a few years ago in connection with the Scottish singer Aidan Moffat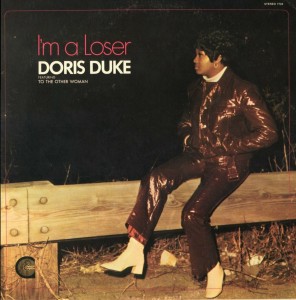 (Arab Strap) who had recorded a cover version of one of her songs (I Don't Care Anymore)  – it was terrible, even though I usually like his stuff. I thought, 'it can't be that bad a song for someone to think, I'll cover that and then do it badly', so I looked for Doris Duke. And I'm glad I did.
Soul music isn't my usual flavour of tea, far from it, I'm more a of the shoe gazer (originally termed for The Walker Brothers) with some rock or more pop n roll such as The Tindersticks, Scott Walker, Radiohead, Nick Cave, some Eno (both Brian and Roger), Max Richter and many others – but you get the picture.
As a kid, Soul was something that was just around like Folk or Prog Rock, some of it was OK but nothing that really spoke to me. So, really, someone like Doris Duke shouldn't appeal either but there's something a little more enlivening about her voice, and a rawness to her songs. They have an emotional richness and the subject matter is far from mainstream: suicide, divorce, the 'other' woman with songs like "If She's Your Wife (Who Am I)" and "To the Other Woman (I'm the Other Woman)".
The songs swing from ballads like "He's Gone" (probably my favourite song) to more up-tempo dance numbers like "Let Love Touch Us Now" and the wonderful "The Feeling Is Right" where it's difficult to keep still.
The Feeling Is Right
So who is Doris Duke?
Born in 1945 in Gorgia, Doris worked as a backing singer for artists such as Jackie Wilson, Sinatra, Dean Martin, Aretha and Sammy Davis and most notably for Nina Simone (touring with her in 1968–69). Her own solo recordings started in late 69 and became the album "I'm a Loser" written by Swamp Dogg aka Jerry Williams who co-wrote with Gary (Anderson) Bond Duke's R&B hit "To the Other Woman (I'm the Other Woman)".
Her second album, which came out in 1972, was "A Legend In Her Own Time" with some songs written by the same team (Williams & Bond). But the second side was filled with covers by Wilson Pickett, Buddy Johnson and Jimmy Roach's "I Don't Know How (To Fall Out Of Love With You)". A single to promote the album, "If She's Your Wife (Who Am I)" was another Swamp composition (but this time writing with Charlie Whitehead). "I Wish I Could Sleep" is very memorable and is clearly a "70s" song with its guitar licks.
Parting company with Swamp Dogg in 1973, Doris signed to the UK Contempo label the following year and recorded her well-regarded "Woman" album at Central Sound Studio in Denmark Street, London that Autumn. This is an album I've yet to discover.
There's time… but "You only live once and that's not guaranteed" from "He's Gone" rings out and one of my favourite lines, "I was asleep when I should have been awake" reminds me how much music means to me; how bad music irritates or even angers me but how good music warms me and keeps the cold out. Doris inhabits her songs like they're about her own experience and one that she owns and shares with us, and for that I'm grateful. And next time I'm in Soho I'll look out for Doris or at least her voice on the autumn breeze.
If you want to listen to songs, here are a few more that make it onto my list:
Ghost of Myself • Let Love Touch Us Now • It Sure Was Fun • I Wish I Could Sleep • We're More Than Strangers • I Don't Care Anymore.
---
Blog Hopp – "I have a dream…" Celebrating Black History Month
with Writing East Midlands http://www.writingeastmidlands.co.uk/dream-blog-hop/
Blog Hoppers are:
Jacqueline Gabbitas – http://www.jacquelinegabbitas.net/
Carol Leeming – http://choreopoems.blogspot.co.uk/
Martin Parker  – https://www.silbercow.co.uk/deep-soul-doris-duke/
Liz Gray – http://lizardyoga.wordpress.com/
Beccy Shore – http://beccysblogforwritingeastmidlands.wordpress.com/
Spread the word and join us! Further details <here>